17 septembre 2011
This is My Voky who will speak the new of this summer !
16 février 2011
The "Captains of America"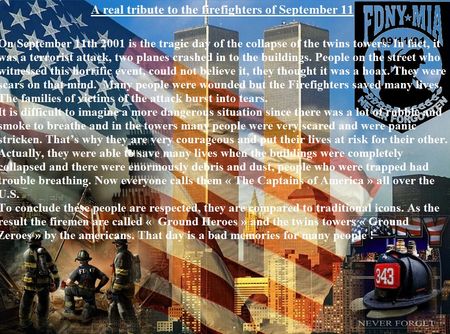 12 décembre 2010
Two years ago, i went to New Zealand, it's so Beautiful ! and i had a conversation with a New Zealander. He spoke of New Zealand, he suggested me to visit two glaciers Franz Joseph and Fox Glaciers because apparently are very stunning to look at, it's amazing. In New Zealand there are an outdoor lifestyle, so lot of outdoor activities. He prefere Te West Coast of the South Island It's pretty. He prefere because he find the South Island of New Zealand is very scenic in comparison to the North Island.
He invited me to go to see a match Alls Blacks, It was SUPER !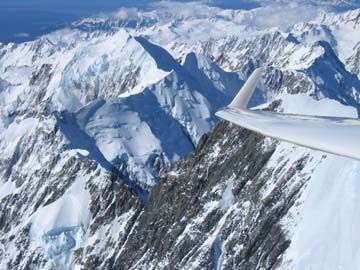 The Haka is a very traditional dance form of the Maori of New Zealand. It's posture dance performed by a group, with vigorous movements and stamping of the feet with rhythmically shouted accompaniments. It involves fierce facial expressions and grimaces; poking out o the tongue, eye bulging, grunts and cries, and the waving of weapons.. The use of a haka by the All Blacks rugby union team has made the dance very popular in the world. However, some are performed by women, others by mixed groups, and some simple haka are performed by children. The most well known haka is "Ka Mate".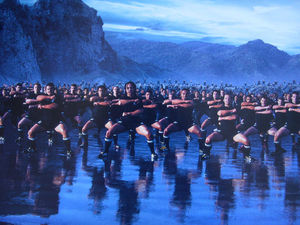 Maori Version English Translation

Ringa pakia Slap the hands against the thighs
Uma tiraha Puff out the chest
Turi whatia Bend the knees
Hope Whai ake Let the hips follow
Waewae takahia kia kino Stamp the feet as hard as you can
Ka mate ! ka mate ! It's death ! It's death !
Ka Ora ! Ka Ora ! It's life ! It's life !
Tenei te ta nagata puhuru huru This is the hairy person
Nana nei i tiki mai Who caused the sun to shine
Whakawhiti te ra Keep abreast ! Keep abreast !
A upane ke upane ! The rank ! Hold fast !
A upane kaupane whiti te ra ! Into the sun that shines !
Hi !!


Video Of Haka " Ka mate" Rugby WorldCup 2007
My Favourite Team in Rugby is RCT ( Rugby Club Toulonais: France)
Here's the emblem of RCT
The players on this team are

Front :

Sébastien BRUNO
Kristian CHESNEY
Jawad DJOUDI
Joe EL ABD
Laurent EMMANUELLI
Juan Martin FERNANDEZ LOBBE
Davit KUBRIASHVILI
Tonga LEA'AETOA
Olivier MISSOUP
Jean-Charles ORIOLI
Ross SKEATE
Jocelino SUTA
Saimone TAUMOEPEAU
Joe VAN NIEKERK
Back :
Pierre MIGNONI ( I know his brother and is my neighbor )
Fabien CIBRAY
Felipe CONTEPOMI
Sébastien FAUQUE
Anthony GIACOBAZZI
Mafileo KEFU
Rory LAMONT
Christian LOAMANU
Gabi LOVOBALAVU
Tom MAY
Jamie ROBINSON
Luke ROONEY
Jonny WILKINSON
Sonny Bill WILLIAMS
This video is Pilou Pilou, it's almost same the Hake except it isn't used to scare : Pilou Pilou Rct
French Version
Ah ! Nous les terribles guerriers du Pilou-Pilou
Pilou-Pilou !
Qui descendons de la Montagne vers la Mer
Pilou-Pilou !
Avec nos femmes échevelées allaitant nos enfants
A l'ombre des grands cocotiers blancs
Pilou-Pilou !
Nous les terribles guerriers poussons notre terrible cri de guerre
AAAARRRGGGGHHHHH !
J'ai dit "NOTRE TERRIBLE CRI DE GUERRE" !
AAAARRRGGGGHHHHH !
Parce que TOULON
ROUGE !
Parce que TOULON
NOIR !
Parce que TOULON
ROUGE ET NOIR !

English Translation
Ah! Us the terrible warriors Pilou Pilou-
Pilou Pilou-!
Which descend from the Mountain to the Sea
Pilou Pilou-!
With our disheveled women breastfeeding our children
In the shade of tall coconut trees white
Pilou Pilou-!
We push our warriors terrible terrible war cry
AAAARRRGGGGHHHHH!
I said "OUR TERRIBLE WAR CRY!
AAAARRRGGGGHHHHH!
Because TOULON
RED!
Because TOULON
BLACK!
Because TOULON
RED AND BLACK!
Rugby World Cup 2011

The first match of the Rct ( France ) is vs Japan, on Saturday September 10 at 18:00 in North Shore at North Habour Stadium

The Second match of the Rct is vs Canada, on Sunday September 18 at 20:30 in Napier at McLean Park

The Third match of the Rct is vs New Zealand, on Saturday September 24 at 20:30 in Auckland at Eden Park

The Fourth match of the Rct is vs Tonga, on Saturday October 1 at 18:00 in Wellington at Wellington Regional Stadium

If French was the winner, France would play in Eden Park
If French was the second, France would play in Wellington Regional Stadium

I suggested tour of New Zealand for future travelers:
Queenstwon : Go to capital of New Zealand, Queenstown and you'll find all the comfort of civilisation: massage therapist, restaurants; sedewalk cafés, window-shopping and adrenaline-pumping activities!
Sea kayak Milford Sound : Milford was rated the 8th Natural Wonder of the World by Rudyard Kipling and it's easy to see why.
Morning walk or jog near Lake Manapour : is surrounded by beautiful rolling farmland which is great for a morning stroll or run if you're keen to stretch your legs this morning.

Skiing or snowboarding in Queenstown : With Coronet Peak, the Remarkable, Cardrona and Treble Cone ski areas all with in an hours drive of Queenstown, there are plenty of skiing or snowboarding options for novices and experts alike, and being locals we'll be happy to point you to the best of them!